Introducing Dr. Leonard Coldwell's Books

Introduction

If stress is at the core of all illness and discontent in life why is it not at the core of all attempts to heal? Why is a pill seen as a solution when the cause…stress…is left unattended? Dr. Coldwell understands the far-reaching effects of stress and in Stress the Silent Killer provides the missing link that allows you to avoid illness in the first place.
The famous Austrian neurosurgeon, Hans Selye, noted in his landmark book Stress Without Distress that stress is to be alive while distress destroys the person. Dr. Coldwell tells us in easy to read and understandable words how and why stress occurs, why it is so damaging, why it is so pervasive and why it does not need to be … even in this 21st century world so full of stressful circumstances, terrorism, blaring TV advertisements and even dysfunctional families. He also understands that while the written word helps us to grasp the importance of each point, it is not enough by itself to triumph over the harmful habits and conditioned responses our hyperactive world foists upon us everyday.
That is why he created the CDs that accompany his book. These are a masterpiece of science and sensitivity calculated to help you overcome the stresses in your life and create a healthier, happier lifestyle. Played through earphones, you are transported to a place of your own, true, inner calm that permits his message of countering the stress in your life to break through the demands of each day and restore the strength, confidence and good health you know you have within you.
These CDs will become your daily friend as they start you on a less stressful, healthier and more productive life while the book will become a handy reference for you and other members of your family as each of you finds your own, new source of power within and as you learn how to deal with stress the ultimate de-motivator and Stress the Silent Killer.
Carson E. Beadle
Chairman, The Health Project
The Only Answer To Becoming A Sales Champion!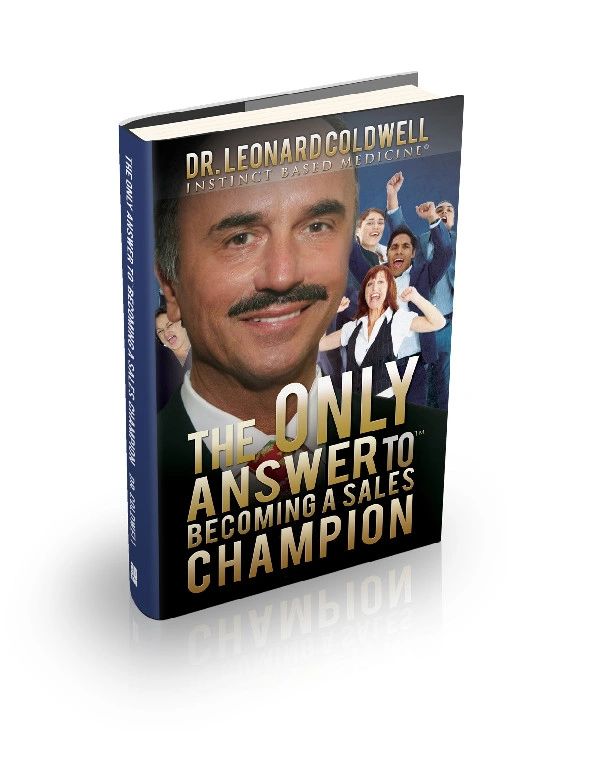 The Only Answer To Becoming A Sales Champion-Look forward to an inspiring motivational program that focuses not only on your doubts, questions, worries and needs, but also on your wishes and dreams. More than two million people have under the guidance of Dr. Leonard Coldwell-while participating in his seminars, workshops and Elite training-learned to recognize the enormous strength they carry within. By reading this book you will know how to use it, so that you can make your dreams come true.
The Only Answer To Success
The Only Answer to Success contains a proven formula for changing your mindset to that of a true "champion." Based on thousands of hours of research and personal experience, Dr. Leonard Coldwell has come up with a proven way to retrain your mind to achieve any goal or get through any challenge with zero stress. He will systematically show you how to change the subconscious negative mind programming that is eating away your drive and enthusiasm. He will also help you counter the negative influences of family members, friends, coworkers, the government, the media, and other supposed well-wishers that do more harm than good. After applying Dr. Coldwell's proven mind conditioning, you will retrain your mind to find success everywhere. You will be guided to success like a targeted missile. If you follow Dr. Coldwell's proven approach–becoming successful is inevitable. You will truly have The Only Answer to Success.
The Only Answer To Stress, Anxiety and Depression
All illness comes from lack of energy, and the greatest energy drainer is mental and emotional stress, which I believe to be the root cause of all illness.
This book will help you to create a stress, anxiety and depression proof life! and will give you the education tools and coaching you need to learn how to see and treat life's "problems" and how to see them as "challenges" and will give you the knowledge and action plans as to how to take on this great opportunity—this great change that we call "LIFE" in a manner that will enable you to always have your individual: "Only Answer to Stress, Anxiety and Depression." Uncover and eliminate the root cause of all illness!
The Only Answer To Cancer
The Only Answer To Cancer
The Only Answer To Cancer is Dr. Leonard Coldwell's book that combines the knowledge and experience Dr. Coldwell achieved in his work with cancer patients. For the very first time he shares his secret knowledge of his unmatched success.
Review Author of Autobahn:
The Only Answer to Cancer by Dr. Leonard Coldwell is filled with revealing and often shocking information about cancer, how to prevent it, how to cure it, and how the medical industry makes BIG money off this illness.
If you or a loved one has cancer, or you would like to learn how to prevent the dreaded "C" word, you must read this book. Within these pages Dr. Coldwell explores hundreds of natural cancer cures, and also exposes the fact that the longer you stay ill, the longer doctors get to keep you as their customer. He gets us to open our eyes by seeing cancer from a different perspective–it isn't a death sentence!–and he urges us to open our mouths by telling the medical community that we have the right to choose our health and healing methods.
Why rush into Chemo and radiation when doctors can't guarantee they'll cure you? Take some time to become educated and explore natural possibilities before going under the knife or resorting to poisoning. Find out what the true root cause of your own personal illness is. Dr. Coldwell firmly believes that once you uncover the reasons why you became sick in the first place–it's always mental and emotional stress that does it–then you can become healthy again and stay that way.
Compared to the cost of hospital stays, prescriptions, and doctor's visits, the price of his book is a steal.
Kelly Wallace

The Only Answer to Cancer is Dr. Leonard Coldwell's book that combines the knowledge and experience that Dr. Coldwell achieved in his work with cancer patients. For the very first time Dr. Coldwell shares his secret knowledge of his unmatched success available to the public.
WHAT INTERNATIONAL LEADERS ARE
SAYING ABOUT THE AUTHOR
Dr. Leonard Coldwell is a remarkable asset: brilliant, brave, innovative
and creative. Motivated by the devastation of cancer in his family, Dr.
Coldwell set out to find the cure for cancer - and found it, curing his
mother and 35,000 people found him - and came away cured of their disease.
Not surprisingly, German authorities persecuted him until he was
forced to close his cancer hospitals there and came to the US where he
continued his ground-breaking work.
I regard Dr. Coldwell as a true treasure and I treasure both my friendship
and professional relationship with him. I urge you to read this book
carefully and then share it with everyone you know facing cancer themselves
or in their loved ones.
Yours in health and freedom,
Rima E. Laibow, MD
Medical Director
Natural Solutions Foundation
The Only Answer to Cancer is one of those rare books which can save your
life or someone else's life. Natural Cancer treatment is very dear to my
heart since I was diagnosed with terminal cancer in 1994 but, through
totally natural means, lost the cancer and gained optimal health through
its treatment. You can, too, following the deep wisdom in this book.
The cancer establishment doesn't want you to know that you have
safe, effective and inexpensive natural options since cancer is the single
most profitable disease ever encountered by mankind. Brave leaders like
Dr. Coldwell are dangerous to the industry that depends on your illness
and your ignorance: nowhere is that more true than the multi-trillion
dollar cancer industry.
Dr. Coldwell is a gifted doctor whose special gifts are curing people
and telling the truth about disease—and the industry that wants to
keep you as sick as possible as long as possible. His pioneering work has
brought him the success and reputation to back up what he says. I believe
in his new book, The Only Answer to Cancer, because I know that Dr.
Coldwell's work has helped huge numbers of patients with cancer and
other terminal diseases. I am proud to have Dr. Coldwell as my fellow
health freedom fighter.
Yours in health and freedom,
Maj. Gen. Albert N. Stubblebine III
(US Army, Ret.)
President
Natural Solutions Foundation
"It was an honor to be able to work with Dr. Coldwell for all these years
and to witness the daily miracles that seem for Dr. Coldwell just simple
"normal." I have seen patients that have been on their deathbed recovering
from cancer or patients with no hope. I have known Dr. Coldwell's
main miracle his own mother that Dr. Coldwell cured from liver cancer in
a terminal state over 3 decades ago, for many years and I have researched
all of her files and data and the more I read about how sick she was with
her Hepatitis C, liver cirrhoses and terminal liver cancer, and the more I
read the more impressive her total healing became to me.
I have seen many patients that Dr. Coldwell cured from cancer and
other diseases like Multiple Sclerosis and Lupus and Parkinson's and
even muscular dystrophy and many, many more and I am still in constant
awe of Dr. Coldwell's talent and results. I am so glad I could study with
him personally and to learn his IBMS™ directly from him. When he left
Europe, he left a huge hole, a massive empty space, in the world of cancer
treatment behind. I am honored and excited about the possibilities that
Dr. Coldwell opened up for me as his Master student and that he has the
trust in me and my talents, that he picked me as his successor when he
retired from his work with patients. "
—Dr. Thomas Hohn MD NMD Licensed IBMS Therapist™
Research in the USA and Australia reveals the 5 year survival benefit to
chemotherapy patients is 2%, that's a single week, for living in hell for
5 years! Orthodox medicine butchers, burns and poisons patient-victims
and frequently shortens their lives, meanwhile their life savings are transferred
to the medical establishment. Dr. Coldwell is a heroic pioneer who
has delivered thousands from this fatal ordeal. This humanitarian's vital
book may save you or a loved one from a world of pain. Step "out of the
box" and study it carefully for your own sake.
—Dr. Betty Martini, D.Hum, Founder
Mission Possible International